Once again, Daphne of XPR has invited me to partake in another event. This time, it is one of a social cause, or rather, social causes.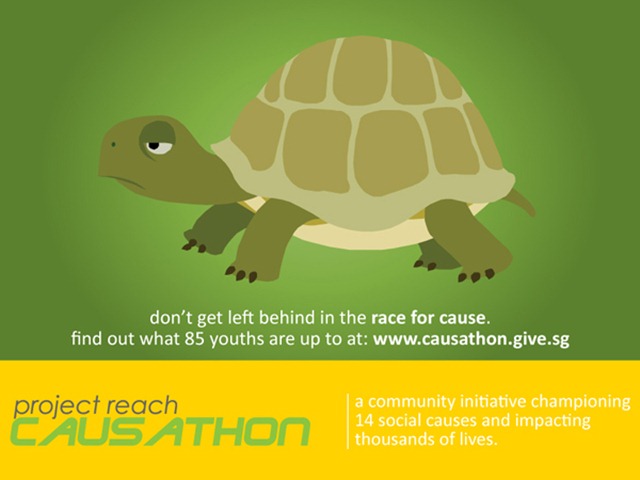 Causathon is a portmanteau of 'cause' and 'marathon' to signify that the race for cause is one long journey. Our destination is World Peace. There are 85 SMa students in 14 different teams taking part in this race. Each team champion different causes such as from helping transient workers to helping the folks who requires home care services. Each team as a goal that is at least $500. Read on on how they are going to raise the funds with $0 budget here.
I came into the SMa building quite late at about 5pm. I had a presentation in the morning and spent most of the afternoon unwinding with my group members and classmates before heading there. At the lobby, I was way-laid by the sight of Starbucks coffee that was going at $2 per cup. To be honest, caffeine is not my strong point. A normal intake would just make me go hyper. I like the taste of coffee though.
I digressed.
They are tasked to raised money and more importantly, awareness about the causes they have championed. The awareness is raised through the use of online social networks. Leveraging on sites like Facebook and Twitter, they hope to bring the issues closer to home. This is where my fellow bloggers and I come in. After buying the cup of coffee, I headed level 6 to listen in on the presentations that the groups have to make and from there gives some comments and suggestions. You may read more on this at Daphne's, Hisham's and Aaron's blogs.
Most do have the strategy planned out, however, the execution of the strategy is wanting. Still, they have till 1st August to straighten out the execution. There are groups though who have planned out the execution. Dedrick and his team is championing Project Baby Love. They are by far the most ambitious team I have seen. They set a target of $3,500, securing prominent bloggers and a corporate sponsor for their main event, Bloggers in Big Shoes VS SAFFC, an accumulation of efforts this coming 25th July. Be sure to attend it! I will not be there though, due to school commitments.
There are other teams too! Be sure to check them out!
While you are here, check this video out too. It features Project Reach on the traditional media.