This is a continuation of the previous post: Hey to the peeps at #bthon. A really delayed post to boot.
I went back Tangs at about 12pm. The initial plan was just to collect the $50 voucher.But the plan derailed when I help @HillaryChan and @geekonomics to bring in their lunch. I bought ginseng chicken soup with rice from Lucky Plaza for both of them. It was deliberate, knowing that ginseng does aid in keeping people active. @geekonomics requested two cans of Red Bull too. Caffeine overload alert!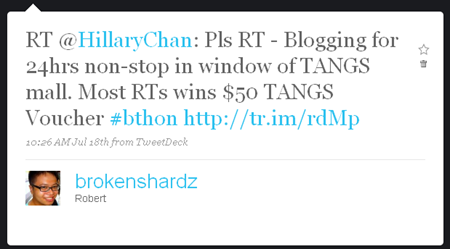 Anyway, I collected the $50 voucher from the ladies at the booth. To verify that I had retweeted the above message, I had to login to my account. The lady who verified it saw another tweet: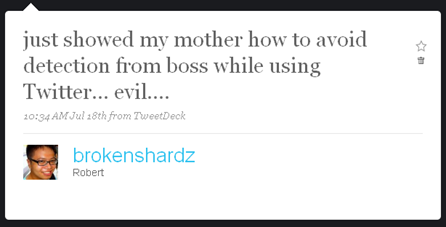 While at there, someone pulled me aside and asked on how to use Twitter. For a good 10 minutes, I became an unofficial ambassador of Twitter. After that, I went to see the various bloggers on 'display'.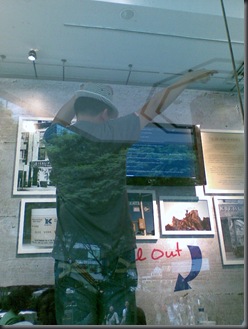 Here is @dk with his 'sexy' Michael Jackson pose. The sabo nature in me took the following and twitpic-ed it: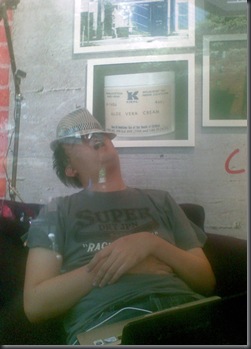 What an entertainer!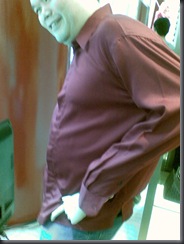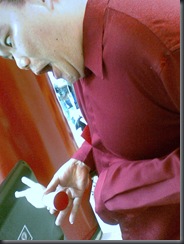 Joe Augustin is having some fun with the wooden hand that was placed on the table that HillaryChan and geekonomics were at.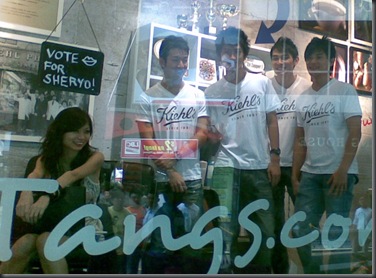 The Kiehl boys went in and entertained the ladies in the main display section.
Back to the $50 dollars voucher, I used it to get a watch to replace my 5-year-old watch.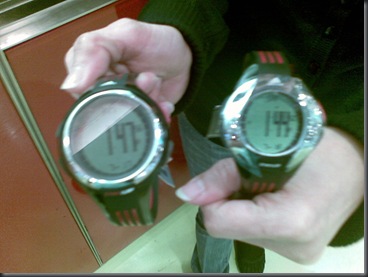 I bought the left piece. I have to thank those who helped me to select the piece: @HillaryChan, @geekonomics, @mkpadnama and @Honeymeow. Did I mentioned that I met Honeymeow there too? We were sharing about the confusion over her husband and I by others due to the similarity in our names.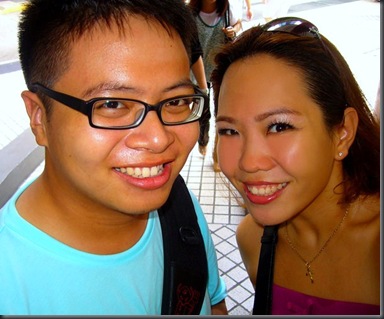 Photo credit: Honeymeow.
The event ended at 6pm. I helped @HillaryChan and @geekonomics to pack their stuff up to their car. Honestly, I was not sure if @geekonomics could still drive home after the entire event. But since they are still alive and healthy up till now, I guess it is alright. 😛
The winners were announced about 30 minutes after. Congrats to @geekonomics and @nadnut for winning the laptops!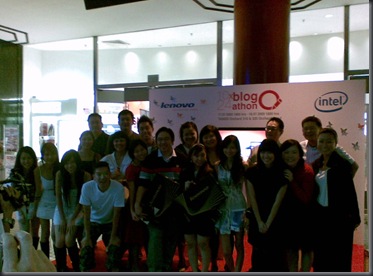 Pardon the quality. I was using my camera handphone.
The day did not end for me there. Later, I went on to watch Harry Potter on my own. This is for another time.