I had the chance to receive a review set of Logitech Bluetooth Keyboard for Windows and Android a while back.
The keyboard is designed to accompany a Windows 8 or RT tablet or an Android tablet. However, the keyboard can also be used as a wireless keyboard to almost any devices, by virtue of the Bluetooth connection. The pairing process is rather easy.
The indicators at the top of the keyboard display the possible conditions of the Bluetooth keyboard and the power supply. The keyboard is powered by 4 AAA batteries and is long lasting.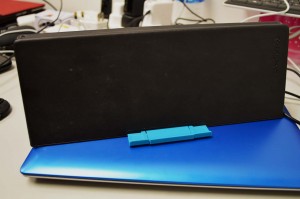 The keyboard comes with a casing, which when is not used for protecting the keyboard, can be used as a stand for the tablet. This is convenient for users whose protective case for their tablets is cannot double up as a stand.
The numerous Fn keys at the top row of the keyboard allows quick access to common shortcuts that most people would use, such as fast forwarding/playing media files and controlling volume. F1 to F12 keys are triggered when combining Fn key with the keys in the second row.
The keyboard and its casing is designed with the height not exceeding that of an A4 paper, which probably means that it could fit into most laptop bags and hand carry bags. Despite its small size, the keys are designed to be that of a standard laptop's. This allows an user to type comfortably in any settings.
This keyboard is for the users who are seeking a keyboard that is comparable to that of a laptop's for their tablets.