We always hear why polytechnic students are not like JC students when comes to busfares. Now a polytechnic, Temasek Polytechnic is taking steps to move towards being one.
Step 1: Enforcing school uniforms on all students
Apparently, there is a webpage on temasekpoly.sg that details an upcoming implementation.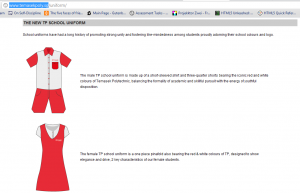 Now let's better hope that this is an upcoming April Fool's Day joke. 😛
[Update]
April 1: Video on the uniform is up on Youtube.
If it is an April Fool's Joke, it is quite elaborate.
P.S. Skip to 3:00 if you want to cut the crap. 😀