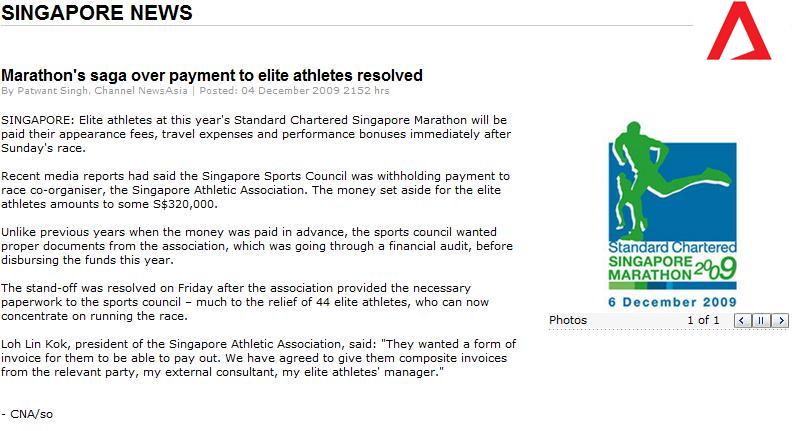 Why does Singapore have to pay foreign athletes to participate in our local events? No doubt, for local events to survive, we do need foreign participants. However, is there a need to pay them? Can't the Sports Councils or equivalent authorities in these athletes' countries fund their expenses instead? The logic is simple, no matter which events these athletes participate, the countries' names will be used invariably. The athletes are representing their nations.
In a separate news article on Yahoo! News, it is reported that the number of runners participating in the Marathon has grown from the initial 6,000 to the current 50,000. This is an achievement for the organisers bearing in mind that it is relatively a young marathon event comparing to the establish London Marathon. Did the heavyweights in the marathon scene help the growth in the numbers? In my opinion, I feel that they did help to attract local runners, who were inspired by them or knew their reputations, to the race in the initial years. However, after the initial stage, more and more runners run in the race probably due the increased awareness of individual health matters and peer influence.
I ran in the Army Half Marathon this year. The driving motivations behind my participation is to experience what is to run in a crowd and enjoyment. Indeed, I did enjoy the course. In it, age and background do not matter. Runners talk to each other even though they are strangers. They lent each other support and encouragement. And I doubt the majority of these runners did know the names of the elite runners.
So is it still worthwhile to pay the expenses of the foreign runners? I suggest scrapping this system and use the money to cultivate the local scene. Run more running clinics. Groom selected local runners for international runs. If the organisers insist on having the elite runners to participate, get the organisers to increase the prize monies.
Note: I am not running the Standchart Marathon this year due to an overloaded calendar that prevents me from devoting time to train sufficiently. Next year then! Good luck to the runners for tomorrow's run!