This is a long overdue write up for the Panasonic Eco Ideas Media Event that happened on 1st June 2010. The event was held at Marina Bay Sands Expo and Convention Centre. First, I have to thanks Daphne from XPR for inviting me to this event.
Close to two decades, Panasonic has been actively involved in environment sustainability in its business practice. In 1991, as Matsushita Group (as it was known before 2008), it drew up the "Matsushita Environmental Charter", setting forth a strong commitment to respecting, maintaining, and improving the environment. To further strengthen the environmental preservation activities that the Group has, in 1997 the Group formed the Corporate Environmental Affairs division and established the Environment Conference. (source) Fast forward to the present, Panasonic has unveiled new goals and targets for the next decade. To be exact, it is till 2018 for a reason.
The set of targets and goals is known as 'eco ideas' Declaration. It was first unveiled in 2009. Panasonic has achieved most of the targets set. You can read more on this at the Green Business Times. At the same event, Panasonic also unveiled the long-term targets, stretching to 2018.
First, why 2018? 2018 is the 100th anniversary of Panasonic. Other than the plain 100 year old birthday bash, why not a pat on the back for doing a part in saving the Earth? 🙂
After the press release and the Q&A session, we went to the adjoining room to view the exhibits that were on display. The exhibits were mostly interactive. There were quizzes, shooting with Nerf guns at the 'bad' activities and booths on creating ads for Panasonic. There was also a live comparison between a set of old home appliances (refrigerator, television, Blu-Ray player, etc) and a set of new, similar home appliances. The power consumption of the two sets was displayed. It was obvious that the newer appliances are more energy efficient. Pictures can be viewed at Feliza's blog. I did not bring my camera, an oversight on my part. 🙁 There is only one picture from my side: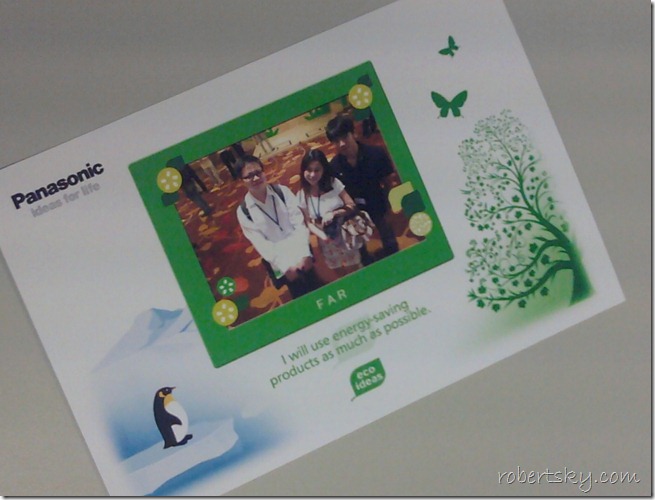 Feliza's boyfriend was there too. Including his name, we made up FAR (Feliza, Anthony and Robert) xD This photo was taken right after we completed a quiz on the environment and issues around it. Not that bad, given that we had three brains working on one quiz. 😛 It was also printed on the spot, with a Canon photo printer no less. I was musing on if Panasonic would come out with a photo printer of its own, given that Panasonic has digital cameras.
Contest time!
Be creative! Design Panasonic's next Eco Ad and stand to WIN a 50" eco-friendly TV worth over S$3000. The most popular Eco Ad submission will be published in October issue of KrisWorld Magazine. KrisWorld Magazine has a circulation of 1.5 million readers worldwide.