I was scrolling through my blog stats as provided by the WordPress plugin when I saw this interesting referrer:
http://reverse.4storage.net/?s=kaspersky.com.sg&submit=Reverse%20it%21&c2nd=c2nd
What kind of link is this? It doesn't really look like a search engine. Not caring if it is a phishing site, I just decided to click on the link. My logic is if someone clicked on the link to come to my blog, it could not be any more harmful than Google, right?
In this case, yes. I was directed this site: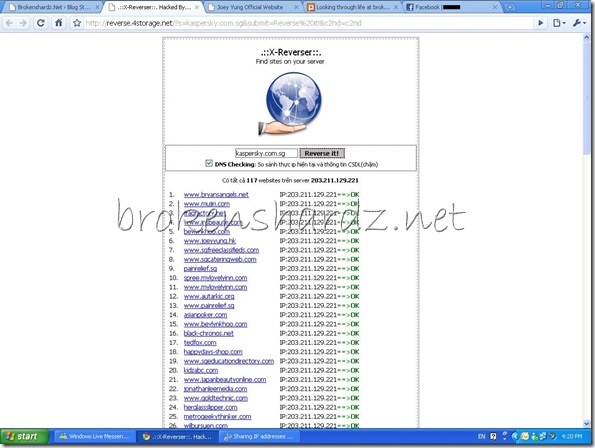 As you can see, it displays a list of websites that shares the same IP address. Upon further checking, the IP address belongs to the hosting company I am with, Limebox.com.sg. There are 117 domains and sub-domains that are listed. Among these domains, that are interesting sites too!
Do you know that Joey Yung's (容祖儿) official site is hosted on Limebox also?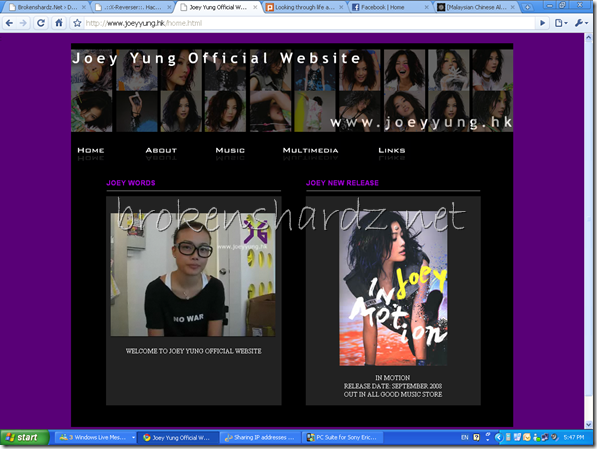 Other than a pop star website, there are many blogs, gaming sites and even a poker site!
Apparently the X-Reverser is a script that can detect the domains which are sharing 1 IP address. For companies who do not wish to reveal their client list for various reasons may find this an annoyance. But in the meantime, let me use the script to randomly surf websites. Who knows what interesting stuff being thrown up. ^.^